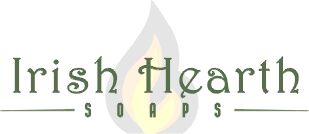 Company Information
Hi - my name is Lori Kimble. I began making soap in 1994 and slowly have built my business into what it is today. I believe in putting the best quality ingredients into my products - I use the soaps myself and would not accept anything less. Handcrafted soap is now a booming cottage industry, there are all types of soap out there! Try other soaps, then try Irish Hearth Soaps. I think you will find them to be a standout from the crowd! You can buy with confidence from an established, time tested company. The business is run by my husband and I with the help of our part time employees, and if you are in the neighborhood - stop by our store to watch us handcraft soap or other parts of soapmaking!
Once you try these milk soaps - you will wonder why you haven't before! Our bars may cost a little more than store bought soap, but you will get quality soap in a long lasting bar. All of the oils used in our soaps have a specific purpose, we don't use filler or bulk oils to cut costs. You are only given one skin in your life, so treat it well! Irish Hearth Soaps is a company designed to be earth friendly. We recycle packing material whenever possible, and encourage you to do the same!
Take care of your soaps by keeping them away from water when you are not using them. Place them on a "soap saver" or grid when you are done bathing. This will help your soaps from becoming mushy and make them last a long time! Also, due to the food nature of some of the scents - do not let small children use these bars unsupervised. We take care to create a wonderful product, but if you feel any irritation when using our soaps, discontinue use.
If you would like to contact us for any reason - please don't hesitate to write, phone or email!
Irish Hearth Soaps: 1203 Paramount Pkwy, Batavia IL 60510
630-879-5404 (Mon - Fri 10am to 5pm)
Web page design created by Lori Kimble All content, graphics and ideas are property of Irish Hearth Soaps and may not be copied, downloaded or otherwise used without express permission. C. 1998-2004